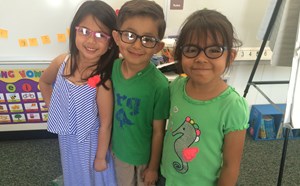 New this year, GGUSD has expanded its transitional kindergarten program to serve more 4-year-olds than ever before. If your child was born between September 2, 2016 through September 1, 2017, please register your child for our free full day kinder…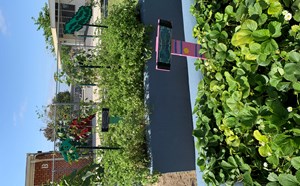 Our Eisenhower garden is blossoming thanks to the many students and staff members who regularly spend their time attending to it. All of the planting, weeding, watering, and don't forget, harvesting, has really paid off. We even have an abundance of…
Students at Eisenhower Elementary learned about amazing and exciting careers last week during Career Day which featured visitors and guest speakers from a variety of career fields that included animal care, law enforcement, fire and rescue, maintenan…
Principal's Message
Dear Parents,
It has been a successful return to full-day instruction for our students.  We are already seeing a positive difference in student learning!  Students seem enthusiastic to be back into a regular routine and were excited to see their teachers and all of their classmates.
Thank you to our families, students, and staff for each doing your part to keep our school safe!
We know this is due to the cooperation of our school community at following our health and safety protocols including:
Staying home when you're sick
Wearing masks
Maintaining physical distance when possible
Washing your hands frequently
Our staff is diligently cleaning and disinfecting the school each day to ensure it is safe for all.  
Thank you for working with us to provide students with a safe and supportive school community where they can enjoy the numerous benefits of in-person learning!  
Sincerely,
Beth Cusimano
Principal
Our School
550 students attend Eisenhower Elementary School. 90.8% of students attending Eisenhower receive Free/Reduced Lunch. The students are primarily 1st generation or immigrated as youth, with 84.7% Latinx (primarily from Mexico) and 13.4% Vietnamese. 53% of the students are classified as English Learners with an additional 15% Fluent English Proficient (IFEP or RFEP). 


Eisenhower Elementary School has a strong academic program with proven success rates, including continual strong growth on state standardized testing and other multiple measures, consistently outperforming similar schools across the county, state and nation.
 
Eisenhower has 1:1 computer to student ratio and students engage with innovative technology tools as part of daily instruction. 


Eisenhower's robotics and coding programs equip students with 21st Century STEM skills and includes fun competitions.


Selected for the prestigious Disney Musicals in Schools program, Eisenhower produces lavish annual musical productions. Augmented by a large choral and instrumental program, Eisenhower provides one of the most robust elementary VAPA programs in the area. 


Eisenhower students take advantage of free after-school interventions and enrichments in English Language Arts and STEAM (Science, Technology, Engineering, Art, and Math).


Eisenhower's robust College and Career Mentoring Program pairs elementary students with alumni college students who serve as positive role models, provide help with school work, and promote positive self-esteem and motivational lessons.


Eisenhower offers the award-winning Orange County GRIP program. This unique partnership with law enforcement provides tutoring, counseling, mentoring, scholarship incentives, and field trip opportunities. 


Eisenhower staff has been honored for their dedication with many awards and recognitions, including County Teacher of the Year, Two Orange County Music and Arts Awards, and Employee of the Month. 


When students leave Eisenhower, they attend Doig Intermediate School and Santiago High School; both are National AVID Demonstration Schools, that prepare students for college and career success.


When they graduate from Santiago High school, Eisenhower students outperform the county and state average in meeting rigorous a-g college entrance requirements for acceptance to UC and CSU universities, with 61.5% meeting a-g.