EISENHOWER SCHOOL PROGRAMS
ACADEMIC SUPPORT CLASSES
Eisenhower offers academic support classes in order to help students who need extra support academically.  We have classes in both the fall and spring and offer a greater number of service hours per student than neighboring programs.  Our programs run multiple times per week with class sizes averaging six to eight students.
DISNEY MUSICALS IN SCHOOLS

Students in grades 3-6 have the opportunity to be a part of our musical theater program which meets twice weekly after school from October through March.  Students work with trained teachers to begin learning about musical theater, stage acting, singing and dancing.  The program culminates with a live musical production performed by our students.
TECHNOLOGY INSTRUCTION
As a school, we have put a great amount of resources behind increasing the amount of technology accessible to our students.  Students work with iPads regularly and learn how to use the iPads as tools to enhance their understanding in the classroom.  In addition, our teaching staff is becoming knowledgeable in a variety of educational applications to enhance usage in the classroom through professional development opportunities, staff meetings and weekly collaboration.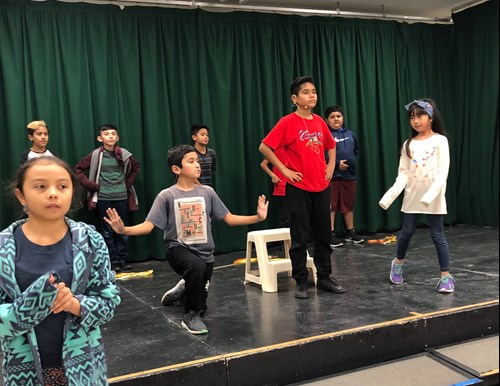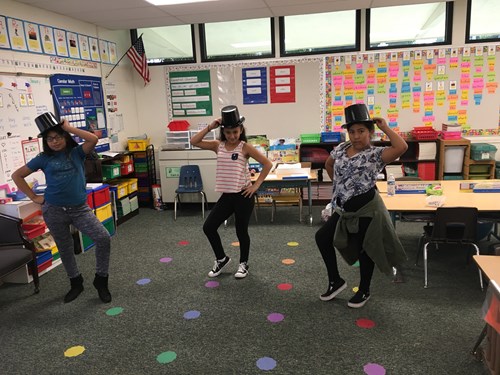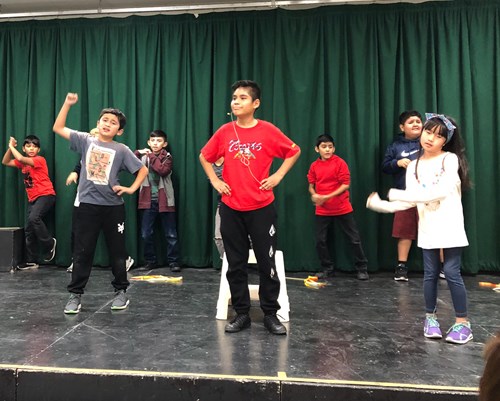 MUSIC INSTRUCTION
All students at Eisenhower participate in performing arts education from fully credentialed music teachers.  Each classroom receives weekly music classes, and upper grade students are eligible to participate in our vocal music program or our instrumental music program.  Students may choose to be a part of a choir, the string ensemble, or the band.  Instruments are regularly provided for students via a school loan program to assist those who are unable to obtain an instrument privately.
SCHOOL ASSEMBLIES
Throughout the school year, we provide Eisenhower students with enrichment opportunities via school assemblies.  Assemblies allow us to bring in a variety of experiences from across disciplines to help enhance learning.  We offer assemblies from a children's author, the Orange County Opera, positive behavior assemblies, and assemblies focusing on nutrition and healthy snacks.  Eisenhower celebrates students during awards assemblies where students receive recognition for academic, citizenship and attendance accomplishments.
STUDENT LEADERSHIP
Upper grade students have an opportunity to learn about student government by participation in student council.  Student council members are elected annually and help to lead the school by planning spirit events, planning student-led fundraising, and by planning and leading the daily announcements.
PROJECT TO INSPIRE
At Eisenhower, we offer Project to Inspire to our parents.  It is a series of 12 parent education classes designed to help parents better understand the U.S. system of education, new state standards, academic programs, how to communicate with the school, and it ultimately supports students.  We have had four classes of parents complete the program and would love for more families to join this year!
MIGHTY MILE & 5K FLAG DAY
In addition to regular physical education, school wide physical fitness is supported by a weekly run-walk at Eisenhower.  Students work to build their endurance to participate in our Flag Day 5K.  Students in grades 2 and 3 complete a mile and students in grades 4-6 complete a 5K or 3.1 miles!  All participating students receive medals and the top runners receive trophies!
COLLEGE & CAREER MENTORING
Beginning in sixth grade, Eisenhower offers after-school, college and career mentoring classes.  All students participate and receive support with study skills and motivation, and are instructed over a series of weeks.  Students are matched with a college graduate who also attended the same local schools our students will, such as Doig Intermediate, Walton Intermediate, Santiago High School or Garden Grove High School.
All of the students are invited to apply for an exclusive continuing group that will receive mentoring directly from our District Superintendent, Dr. Mafi, beginning the summer before seventh grade and continuing through graduation from high school.  This is a tremendous honor and is only available at a few schools!
ACADEMIC PENTATHLON
Each year students in the sixth grade compete against other sixth grade students in an academic pentathlon.  This is an event spanning five academic subjects: literature, mathematics, writing, social studies and science.  Students come from schools all over Orange County to compete.  Students at Eisenhower commit to months of extra study time to be part of the Eisenhower Academic Pentathlon Teams that represent our school at the county competition.  Eisenhower sent two teams last year, Team Green and Team White.  The Green Team placed 3rd in the Super Quiz event and 5th place overall.  The White Team placed 5th in the Super Quiz and placed 6th place overall.  The teams also earned a combined total of 43 individual medals!